Many people take great pride in their lawn mowing routine, especially when more DIY lawn care tools and inventions are coming out every season. Watching videos and TV shows really makes us feel that it's easy, fun and rewarding to maintain our yards, until you realize you spend all day mowing and end up feeling exhausted in the blazing heat of summer.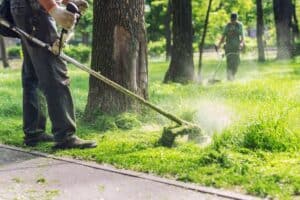 Save Time
Doing your own lawn care can be time-consuming. From making multiple trips to stores, to waiting for the perfect weather, yard work can steal your whole weekend.
While many homeowners take pride in doing their lawn services, some realize that their own work doesn't live up to their expectations.
The cost to hire a professional is worth it compared to the wear and tear on your body when you spend countless hours in your yard.  It is time that you could spend with your family and friends.
Little Rock Lawns can also solve turf problems that you might not recognize in time.
Cost-Effective Lawn Care Service
At first, you may find substantial cost savings from DIY lawn care, but you might encounter expensive lawn problems.
Common problems arise from the following:
Choosing the wrong commercial-grade products.

Buying unwanted tools.

Spending too much on faulty lawn equipment.
When you use Little Rock Lawns, the benefits outweigh all of the costs necessary to maintain your own lawn professionally. They know what works and what does not. Our approach to lawn care is proven.  
Our work can also increase your property value. Beautiful yards contribute to an increase of up to 17 percent in home value.  That's a massive win at an affordable cost.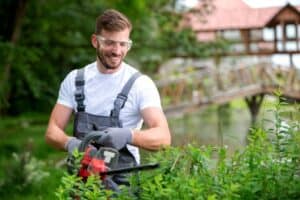 Professional Lawn Care Services
Hiring Little Rock Lawns means having a team of professionals prepared to take care of your yard on a weekly basis.
We have a  trained team ready to help you assess and recommend professional products to use on your grass.
We help you plan your lawn maintenance activities throughout the season and help you understand what's happening in your yard. We have predictive pricing that can help you budget the cost of availing their lawn service to keep your lawn lush and healthy effectively. No surprise costs here!
Ensured Safety of Your Property
A legit lawn care company carries insurance to cover any harm and shoulder all costs tied up with mowing and repairing equipment.
Mowing your lawn can be a disaster if you don't know how to do it properly. You might wonder, how can a push mower harm us? Well, mowers can throw objects that might damage cars or other property.
Additionally, equipment maintenance might put you at risk by causing machines to drop or spill oil and other substances.
Hire Little Rock Lawns if you don't want to deal with all the dirty work to maintain your lawn. At Little Rock Lawns, we guarantee that you have an attractive yard to enjoy family moments and intimate gatherings. Give us a call, and we will help you right away.